Raise your hand if you love football Sundays?  Okay, maybe I'm the only person in our company that is raising my hand but that doesn't mean I love them any less.  While I do love watching football, often against my better judgment, it's not the football that makes me love Sundays so much.  Football Sundays remind me of days of rest.  Days without school or work.  I remember playing football in the street with friends from elementary school through middle school.  We were all adorned in our favorite team's attire and while we were a motley crew we were innocent and hopeful.  There is such hope on a Sunday morning before kickoff.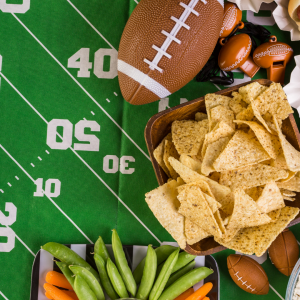 The hope, the memories, but yeah, also the food.  I love football food.  I like food that goes in football chips and dip bowls. I love food that goes into crockpots.  Yes, I could wax on lyrically about crock pots but I won't.  No, I'm just kidding.  Let's give crockpots their due.  Crock pots are magical cooking devices that unlike everything in the world these days, actually want us to slow down.  
I have a lot of favorite cookbooks and this is just one of them.  Like I've said before, I love cookbooks.  I find it so calming to step into a recipe and read all about, even if I have no intention of making it.  These recipes, however, get made.  
To really kick off a football afternoon I go big with anything football related, hence this football shaped cutting board.  Can you really go wrong with anything in a football shape?  (Don't answer that, Rielly.)  The answer is no!
While I didn't partake in fancy football beverages as a kid I did love apple cider hot and cold.  These glasses are my favorite glasses for apple cider.  There's no good reason other than tradition. Honestly, the answer is that I love football afternoons.  Sure it could be football, and sometimes it is, but more often its tradition and family and being snuggled together sharing food and memories.  
As a parent I realize that there are so many things that I try to do in order setup traditions with my kids.  Sometimes I know I go above and beyond what I really need to do.  As I type about my football afternoons as a kid it is more and more apparent that all I really need is a crockpot and some apple cider.  Some simple traditions that bring our family together.  All the more better if the Eagles win the Super Bowl.
Are you a football family?  What traditions do you do with your family to create memories? Are any of those traditions from your childhood?
*Full disclosure we are Amazon affiliates so if you purchase something through these links we will make a small commission. You can also support us and the work we are doing by joining us over on Patreon! We create extra content and video fun for all on that platform.*